Accommodation
Campbell River's most beautiful vacation rental homes!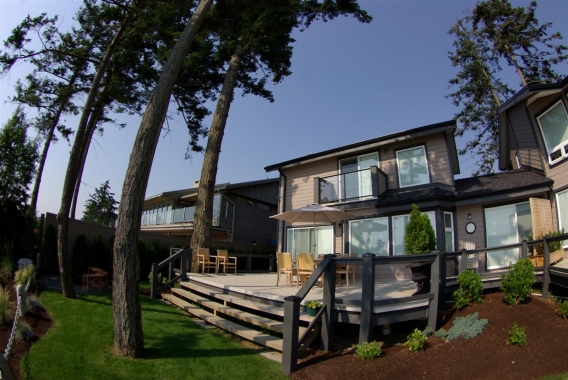 The Cliff Houses are elegant, luxurious, and designed to make urban living convenient and comfortable. Situated on an elevated ridge property overlooking Quadra Island and the Discovery Passage, with ocean access just below yet only minutes from downtown Campbell River. Expansive windows showcase the stunning mountain scenery and aerial ocean views. Eagles nest in towering fir trees and soar along the cliff with massive wingspans.
Whether a summer vacation or a short term corporate visit, you can enjoy outdoor living on the patio or a glass of wine beside the fire pit in the summer and curl up by the fireplace with a good book or storm watch in the winter. A stay at Cliff House gives you a chance to unwind and relax no matter what the season.
People stay at Cliff House for many reasons, extended vacation, job placement, relocation, change in marital status, or their home is under construction. Whatever the reason, Cliff House is a place to call home during your stay in Campbell River.