About
For Travelers by Travelers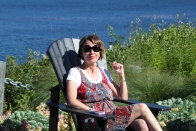 As a traveler herself, Lynda has stayed in many Hotels and Vacation Homes around the world. She has incorporated the features she would like to find in a Vacation Rental at Cliff House. Lynda insists on immaculate, detailed housekeeping which is higher than hotel standards and provides her guests with a complimentary welcome package of essential items.
Lynda treats her guests like friends and understands the desire for comfortable and convenient accommodation.
Lynda has a passion for interior design and you will enjoy all the extra touches in her properties that help make you feel right at home. It is Lynda's attention to detail that makes her homes so special.
Why We Chose Campbell River
Lynda was raised in Campbell River and has always loved this area because of its beauty and casual lifestyle. She loves that she can hike The Canyon View Trail in the morning and snow shoe on Mt. Washington in the afternoon. Living on the ocean but only 40 minutes to the mountains, how perfect!!!
After living in the Caribbean for many years, Lynda is happy to be back home and although she continues to travel, the more places she visits the more she realizes what a magical place Campbell River is.
The Unique Benefits of Cliff House
Guests staying at Cliff House will enjoy the warm relaxing environment and the magnificent view of Discovery Passage and Quadra Island. Guests can sit by the fire pit and watch the fishing boats returning to the harbour or just read a book by the fireplace.
We have thought of every detail so that you can just unpack and relax.